Are You Proud Enough?
Ok so you're a rubbish gay. You know this, your freinds know it, dagnamit even strangers & stray dogs pick up on it. It's not enough is it? Why not get a tattoo?? It can't hurt that much, can it?? Well guess what?? Beauty IS pain. The classic design or 'gay band' ie black all around ones upper arm, is old hat. All the fags of a 'certain age' have them. You want something bold new and exciting. Something that shouts 'I'm gay, and yes...I'm rubbish!!'. A tattoo that will speak so loud even lesbians will hear it. Mr R Gay, you're in luck, we have some inspiration for you. Hot, hot, hot from the internet comes this queer quintet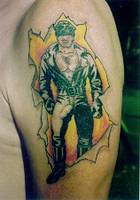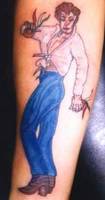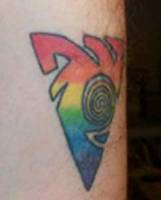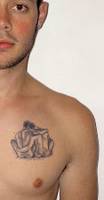 Please bear in mind these gaytoos will be your mark of Cain. Forever will it proclaim 'i am a ponce'. Eyes will roll, queens will gush and unattached fag-hags will want to mark your dance card. Death brings no relief, cold on the slab the 'tatt' tells the mortician 'Dress me up I'm your dolly'. That's right, even dead, the tatty-pride lets all know that you lived very gay, but more importantly, it was well rubbish.
[Rubbish TV/Music on: Precious Box - George Michael/Big Brother Live - Channel 4 ]